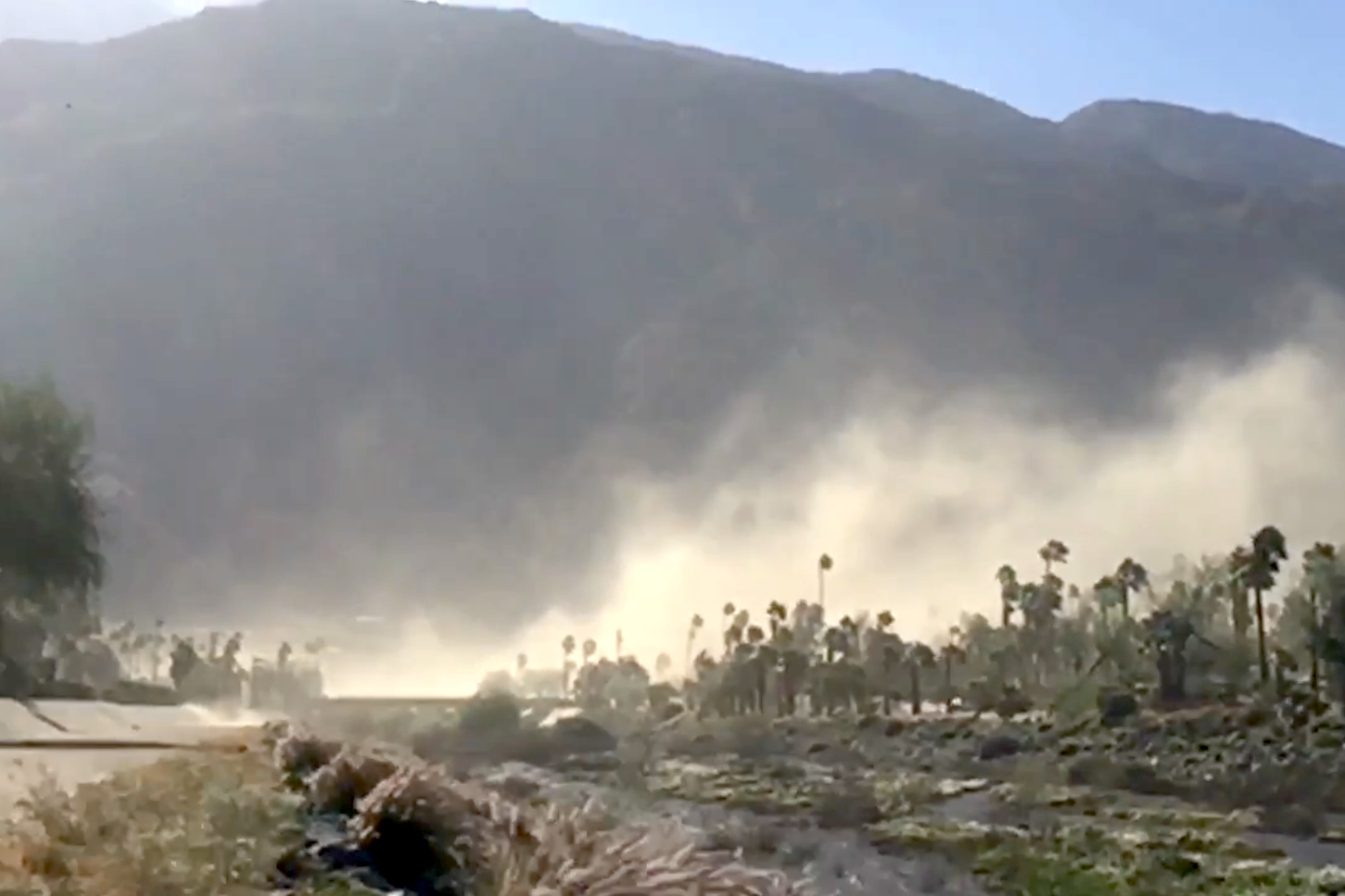 Floods, earthquakes and fires may top Coachella Valley disaster-risk lists, but some of the most dramatic weather events we see result from wind and dust. A desert storm can take many forms, including dust devil, tornado, firenadoe, mountain wave, and, of course, a menacing haboob.
A haboob forms when thunderstorms collapse, causing violent downdraft winds that hit the ground, spread out horizontally, and move across the desert, picking up sand and dirt on the way. These sudden storms can last up to an hour, dropping visibility almost instantly from 7 miles down to a quarter-mile or less. Winds can reach in excess of 50 or 60 miles an hour. Derived from the Arabic term that means "blowing wind," a haboob is most likely to occur during the monsoon season.
Haboobs and other dust storms can bring with them a series of dangers, including walls of debris that can be miles long and several thousand feet high. These conditions can strike without warning, so it is important to know what to do to be safe.
The National Weather Service will issue a Blowing Dust Advisory or Dust Storm Warning if/when radar indicates a dust storm moving in. Pay attention. Prepare to take action, and to do so quickly.
During a Dust Storm Warning, expect visibility to be less than one-quarter mile. It's a dangerous situation. Seek shelter and wait it out.
If you're in the car when the storm hits, keep your seat belt buckled and make sure the windows are rolled up and the doors and all vents tightly shut. Don't enter the storm area if you can avoid it. Pull off the road, if possible.
If you can't get off the road, slow down. Use your judgment given the deteriorating visibility. When moving, turn on the lights and honk the horn occasionally. Keep your eye on the painted center line to help move you forward until you can find a safe spot to pull over. Never stop in the middle of a travel lane. As soon as possible, pull your car off the roadway.
Once you're stopped, kill all lights and set the emergency brake. Make sure your foot is off the brake so your tail lights aren't shining. Never leave your lights on. Cars approaching from behind have a tendency to follow the lights, which could cause them to veer off the road and crash into you.
If you are in a building, shut the doors and close all windows and curtains. If the air conditioning is on, turn it off and close any vents. If the dust storm is severe, try to move to a room without windows as the high winds can carry rocks or tree limbs that can shatter windows.
If you've lived in Tahquitz River Estates for a while, dust storms and haboobs are familiar. Haboobs are less frequent than other storms. Here are a few of the most recent occurrences. Which of these do you remember?
Thursday, August 21, 2014. The weather forecast was for clear sky. But that was not the case. The clouds began to build late morning and at 2 p.m. the rain came down like no one has ever seen here before. It lasted for about a half hour, cleared up, and the sun came out. Just when the bizarre weather seemed to be over, the wind whipped up and in came a haboob. The massive dust storm appeared suddenly and moved quickly from the east valley west toward Palm Springs, blanketing everything in its wake. Drivers were urged to use caution due to wind gusts of 40 mph, especially along Interstate 10, as well as brown-out conditions and reduced visibility on roadways. Strong winds near the Tahquitz Creek Golf Resort downed a tree that fell onto a pickup truck, sending a man to the hospital. The conditions were so extreme that Palm Springs cancelled VillageFest, the weekly Thursday street fair.
 
Friday, July 17, 2015. A thunderstorm over Imperial County produced strong winds that blew dust around everywhere in the Coachella Valley and beyond. Two people hiking the Skyline Trail in Palm Springs became stranded after the storm grounded rescue attempts and prevented a helicopter from picking them up.
 
Saturday, July 30, 2016. At approximately 2 a.m. severe weather in southwest Arizona pushed a massive dust storm across the lower desert at roughly 40 mph, triggering cell phone alerts, and dropping visibility to less than a mile from Thermal to Palm Springs. Dust lingered in the Coachella Valley for the remainder of the day, clearing out once the sun went down.
 
August 10, 2016. Although many residents assumed that the smoky haze blanketing the Coachella Valley was from the Pilot Fire near Arrowhead/Crestline in nearby San Bernardino County, it was actually particulate matter from a giant haboob to the east along the California-Arizona border.
Looking to the future, there is a threat that dust storms and haboobs could become dustier because a shrinking Salton Sea could give off more dust as the lake recedes and more dry lakebed is exposed. In a recent report, the Oakland-based Pacific Institute said that within 15 years, vast stretches of exposed lakebed could send as much as 100 tons of fine dust into the air each day, posing a growing health threat.
To learn more about how to prepare for current and future threats, visit (insert a source here).