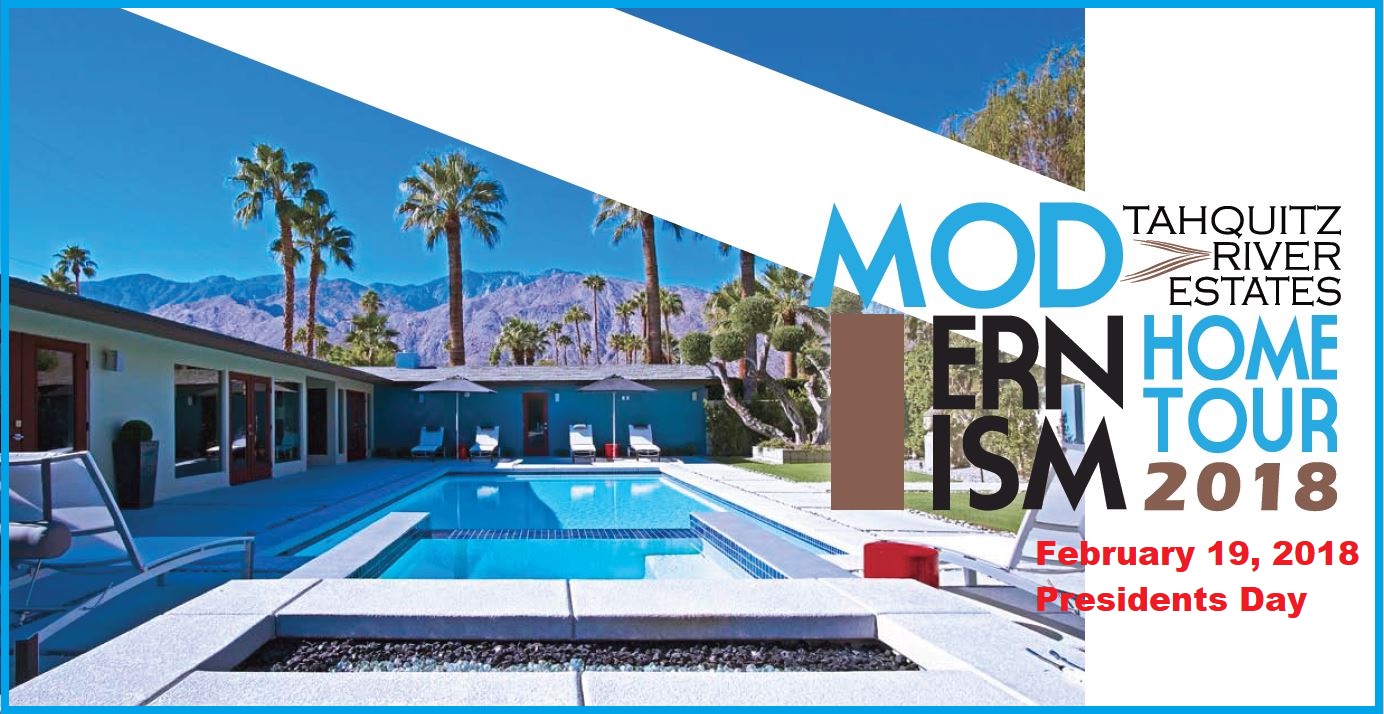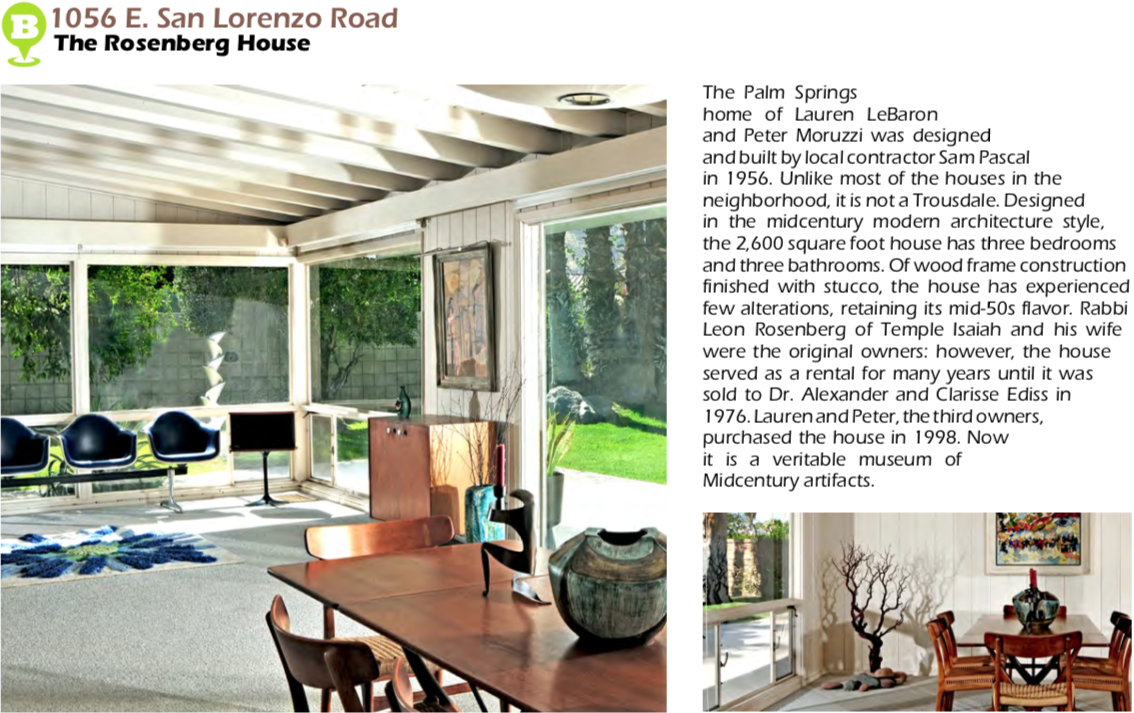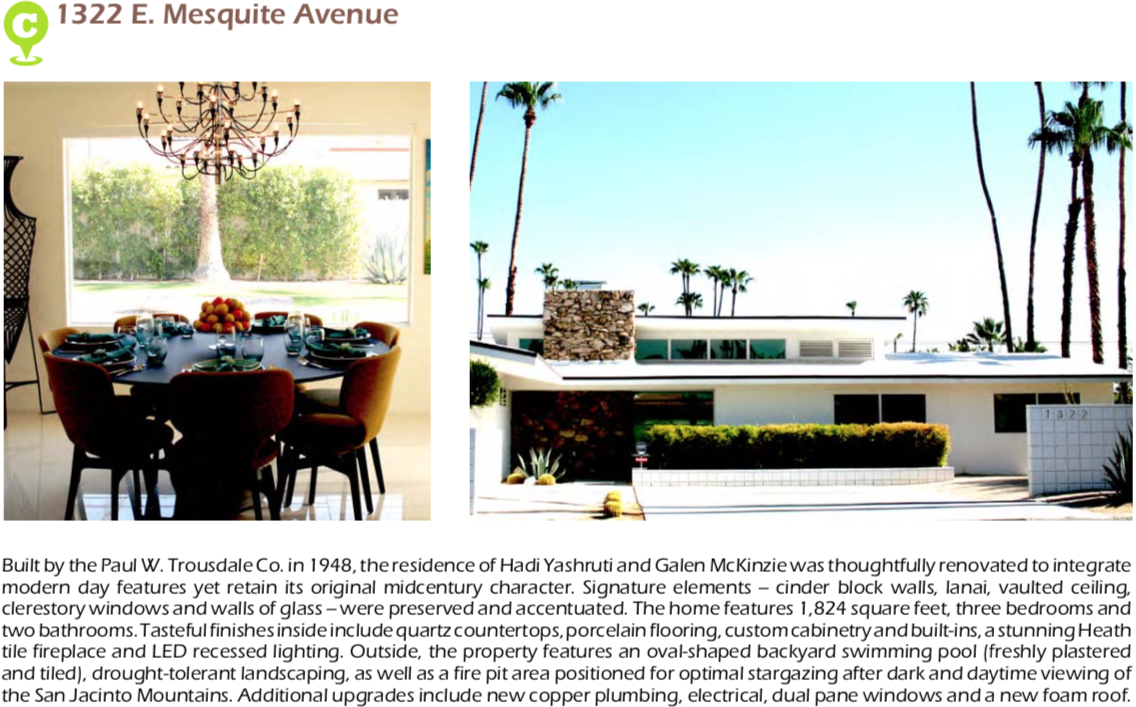 Following a year's absence, the Tahquitz River Estates Neighborhood Organization rejoins Modernism Week with a new look at a 1947 development spurred by Los Angeles developer Paul W. Trousdale.
Trousdales & Beyond: Midcentury Palm Springs South of Tahquitz River is a concise and structured presentation focusing on the earliest phase of the development.
"What we're doing this time is a little segment of Tahquitz River Estates instead of the whole neighborhood, and just kind of segmented it down to the first section that Trousdale built," says organizer Eric Borsum. "It's a mixture of Trousdales and other houses. I thought that way we could tell a broader story about Pearl McCallum McManus and Trousdale and how they stabilized the wash, [setting] the stage for all the development south of the wash."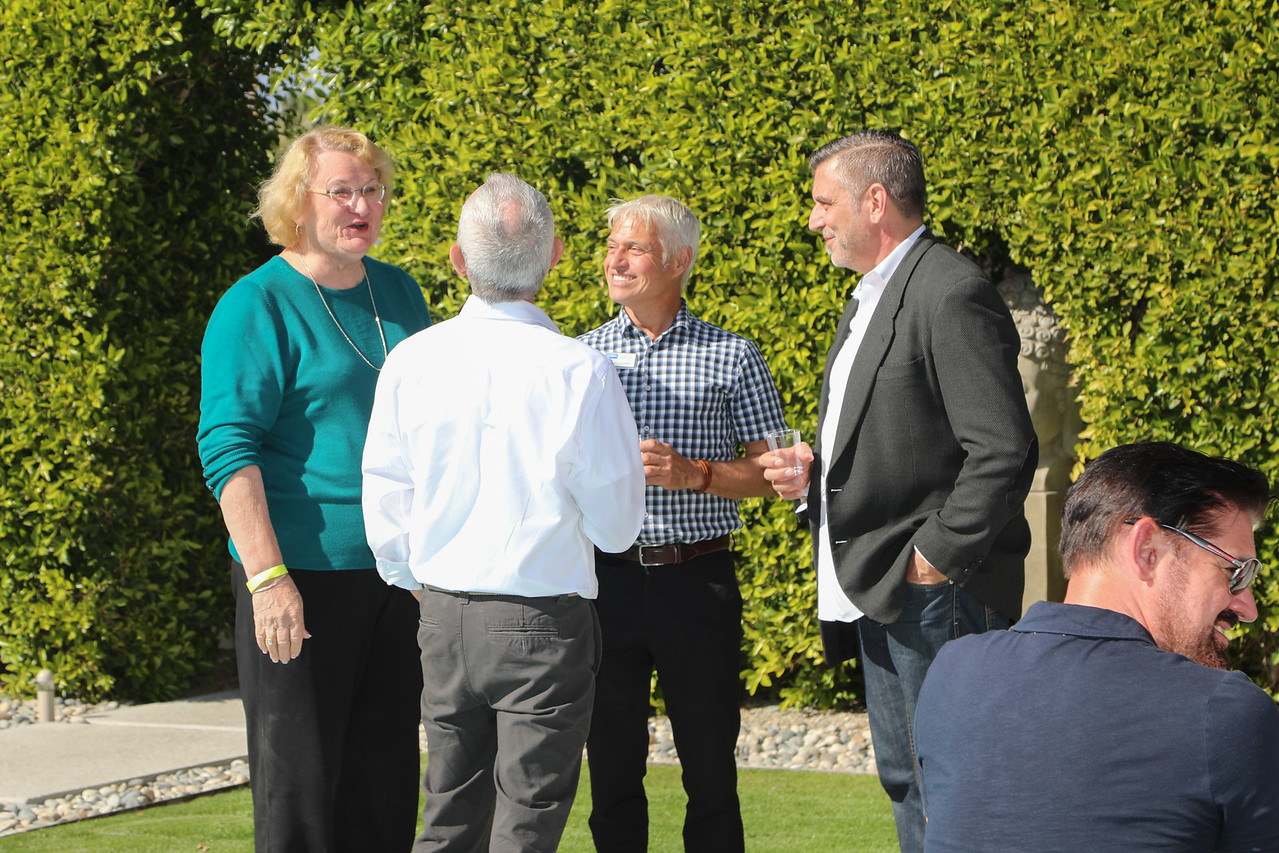 McCallum McManus is said to be the person responsible for bringing modernism to the Palm Springs area as early as 1923, when she hired Lloyd Wright, the estranged son of Frank Lloyd Wright, to design an art deco tower for her Oasis Hotel.
She had grown up watching children swim and play along the Tahquitz River and always thought it would be an ideal place for homes. Trousdale began building homes designed by Allen G. Sipple and Stephen A. Stepanian in 1947; residences by Albert Frey, William Krisel, Hugh Kaptur soon followed.
"I think the neighborhood is great for Modernism Week because of the Trousdale houses, and because we have a mix of so many other architects here, too," says Borsum.
While Borsum and his partner have owned their Tahquitz River Estates home for nine years, the couple became full-time residents in Palm Springs within the last year. "We've learned a lot about the neighborhood. It's been great getting involved," he says.
His enthusiasm and passion have injected fresh energy into the event. Improvements have been made to every aspect of the tour, including charitable donations. "We give away the majority of our money like a lot of the neighborhoods do," says Borsum, "and to have even more to give away this year I suggested that we try to sell some sponsorships to some of the local businesses in our neighborhood. We went around and asked people if they would support the tour, and people were just great about it."
Villa Royale Inn —once the estate of figure skater and film star Sonja Henie — is presenting sponsor of the tour, joining local businesses that include Coldwell Banker, El Mirasol Cocina Mexicana, Eight4Nine Restaurant, Musicland Hotel, and Santiago Resort.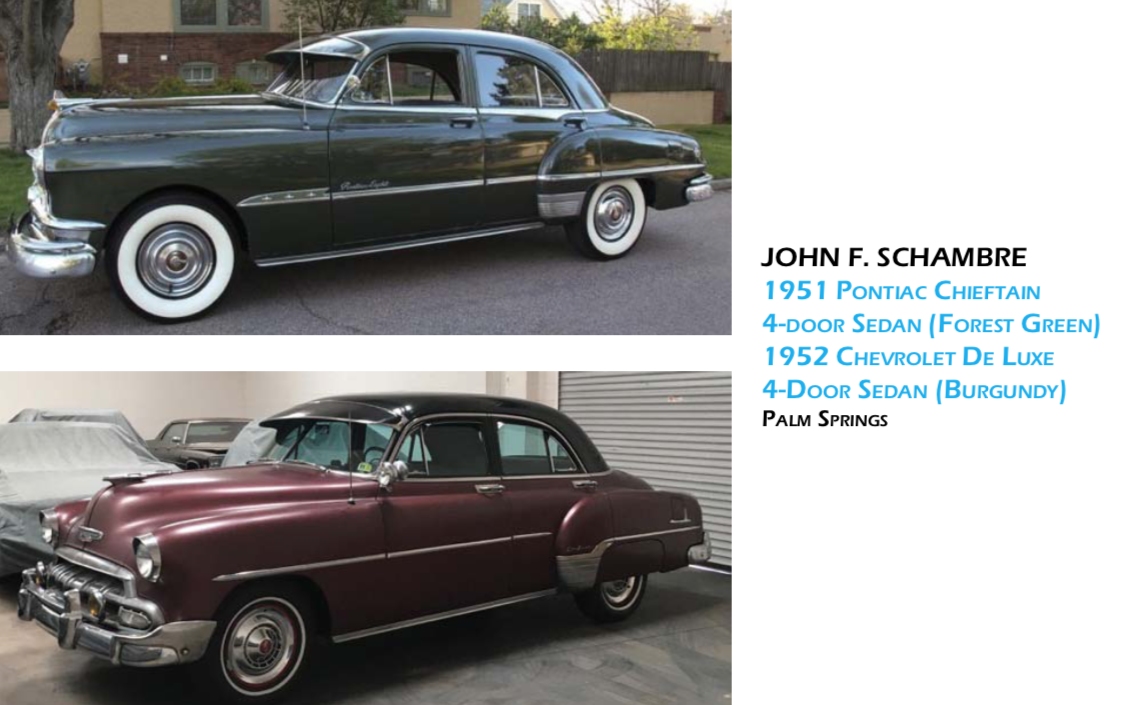 When designing the tour, Borsum sought input from real estate agents who are experts in the Tahquitz Creek neighborhood, including Steve Lautenbach, James Bianco and Brett Kayzar at Coldwell Banker, Eric Meeks at RE/MAX Desert Properties, Niko Esposito at Paul Kaplan Group, Dana Dukelow at Wintrust Mortgage, Fred and Beverly Straeter at The Straeter Group, Jimmy Wilson at Deasy/Penner & Partners and Todd Cunningham at Woodbridge Pacific Group.
The tour opens with a brief talk from Peter Moruzzi, founder of the Palm Springs Modern Committee, after check-in at the First Church of Christ, Scientist, designed by Albert Frey and built in 1956. Moruzzi is an architectural historian and author of several books, including Palm Springs Holiday: A Vintage Tour from Palm Springs to the Salton Sea.
The self-guided tour is an approximately 90-minute walk around this well preserved and restored midcentury neighborhood. A few homeowners are allowing interior tours, including one E.L. Kramer design, and the home of Moruzzi and Lauren LeBaron.
The latter home, designed and built by local contractor Sam Pascal in 1956, features the original kitchen appliances and beautifully restored art and furniture throughout. Docents will be on hand in each featured home to share information and points of interest with attendees.
To further transport participants to times gone by, each featured home will be paired with a restored car of the era in the driveway. Great Autos of Yesteryear, a gay and lesbian classic-car club, helped source these rolling pieces of history. The owners of many cars will be on hand as "driveway docents" to answer questions.
Proceeds from the tour will go toward neighborhood improvements and to local charities and organizations to be determined.
Past grant recipients have included Boo2Bullying, Cahuilla Elementary School, Palm Springs Animal Shelter, LGBT Center of the Desert's Food Bank, Tahquitz Creek Yacht Club, and Mizell Senior Center's Meal on Wheels program.
SPONSORS
We thank Midcentury modern aficionado Peter Moruzzi, our resident architectural historian, for kicking off each tour with a mini-lecture on the history of Tahquitz River Estates. Peter is the founder of the Palm Springs Modern Committee, an architectural preservation group, and his talk was well received by tour goers. 
ALBERT FREY'S FIRST CHURCH
OF CHRIST, SCIENTIST
Thanks also to the members of the First Church of Christ, Scientist, for making their magnificent church available for Peter's talk and for tour check in. The church was a bonus stop for our tour goers and a divine place for them to begin their tour. 
TOUR BY NUMBERS
348 Total Number of Tour Day Participants

247 Number of Tour Goers who Purchased Tickets

101 Number of Volunteers / Event Team

17 Number of Sponsors

4,500+ Dollars raised through Sponsorships
FEATURED HOMES
Peter Moruzzi & Lauren LeBaron

Hadi Yashruti & Galen McKinzie

Andy Duque & Jabby Lowe

Scott Singer & Joe Sadler

Jeff Fischer & James Van Beek

Tom Becker & Kyle Kossol
CORPORATE UNDERWRITER
– Villa Royale
Thank you John Janulus, Phillip Connor and Anne-Marie for your generous contributions to TRENO, and welcome to the neighborhood. You've put the "royal" back into Villa Royale. You're a neighborhood treasure, and we look forward to your reopening this fall.
BENEFACTOR – COLDWELL BANKER
After the event, volunteers gathered at one of the tour stops – the gorgeous South Riverside Drive home of Andy Duques and Jabby Lowe – for a volunteer appreciation lunch hosted by the TRENO Board of Directors. Special thanks to Coldwell Banker and Palm Springs Branch Manager Robert Cipolloni for sponsoring the celebration and to Willie Rhine and Eight4Nine Restaurant for providing dessert.
CLASSIC CAR OWNERS
Lou Armentrout

Brad Fuhr

Chris Green

Marc Hampton

Jim Ilardo

Peter Moruzzi

John Schambre

Michael Sousa

Joel Tessieri

Danny Walker

Ron Williams
EVENT TEAM
Chris Adams

Barbara Adner

Susan Ames

Valorie Armstrong

Mike Arnone

David Bader

Eric Borsum

Jerry Braun

Mary Brown

Stacy Broviak

Jonathan Bunis

Bev Carignan-Wilson

Bob Cowboy-Lydon

Dale Cowboy-Lydon

Paul Crippan

Gary Damaschino

Janell deVarona

Rob Dixon

Dana Dukelow

Jonathan Ekland

Dan Epp

John Espinoza

Niko Esposito

Juanita First

Bill Gillitt

Greg Gilman

Rob Green

Marc Hampton

Michael Harper

Kathy Harradine

Gary Hunter

Ross Jamison

Steven Jones

Walter Lander

Jennifer Liu

Cathie McCullough

Kellee McQuinn

Edward Mickle

Kit Ng

Dennis Nickel

Ken Niolu

John Nyberg

Jefferson Schierbeek

Kasey Scott

Noel Sheldon

Marcie Sherback

Jack Simmons

Cosette Simon

David Slack

Cindra Stolk

Rod Stolk

Beverly Straeter

Fred Straeter

Kenny Taylor

Tony Vaccaro

Hugh Vance

Barbara Villani

Julie Weiman